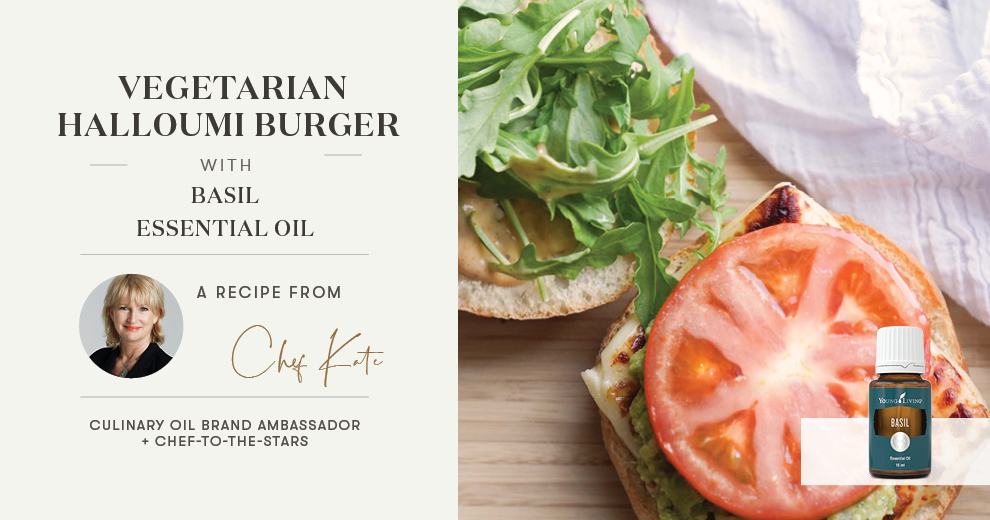 Halloumi makes a wonderful veggie burger filling in place of mince or you can add these halloumi slices to a regular burger as a yummy layer. You're going to love the taste of basil essential oil in this dish as it adds a great burst of flavour!
NOTE Cooking time for the halloumi is approx. 5 – 7 minutes depending on how thick you slice the halloumi. You want to sear it on the outside making it a lovely golden brown.

Ingredients
Burger Ingredients:
1 package halloumi (approx. 600gm…cut into 4 – 8 slices)
2 tbsp melted coconut oil or olive oil (for cooking)
freshly ground pepper (to taste)
1 – 2 drops basil essential oil (to taste)
4 burger bunss
Tomato Aioli Ingredients:
½ cup mayonnaise or vegan mayonnaise
2 tbsp tomato sauce
1 tbsp maple syrup or honey (to taste)
1 tbsp fresh lemon juice
2 drops basil essential oil (to taste)
2 drops lemon essential oil (to taste)
½ tsp dried basil or a few fresh leaves, finely chopped (optional)
¼ tsp sea salt and freshly ground pepper (to taste)
Optional Toppings:
tomato slices and/or beetroot slices
avocado slices or mashed avo
rocket and/or lettuce leaves
Instructions
1. Make the tomato aioli and set aside before you start cooking the halloumi.
2. In a medium bowl mix all the aioli ingredients together well, taste and add a little more sea salt and basil oil, if desired.
3. Prepare the buns and other toppings before you cook the halloumi so you are ready to serve when they are done cooking. You can prepare the topping a few hours ahead of time and keep chilled until ready to serve.
4. To cook the halloumi, mix with the coconut or olive oil with the basil oil and then heat the oil mixture in a large frying pan on medium-high heat. Place the slices of halloumi in the pan, sprinkle with black pepper and cook for approx. 3 minutes on one side. Then carefully turn over and finish cooking for approx. 3 more minutes until golden brown on each side.
5. Serve the burger on buns, bread or lettuce leaves and top with a little tomato aioli and other toppings of choice.
© 2021 COPYRIGHT (C) 2018 – ALL RIGHTS RESERVED – YOUNG LIVING
The post Vegetarian Halloumi Burger appeared first on Young Living Australia.