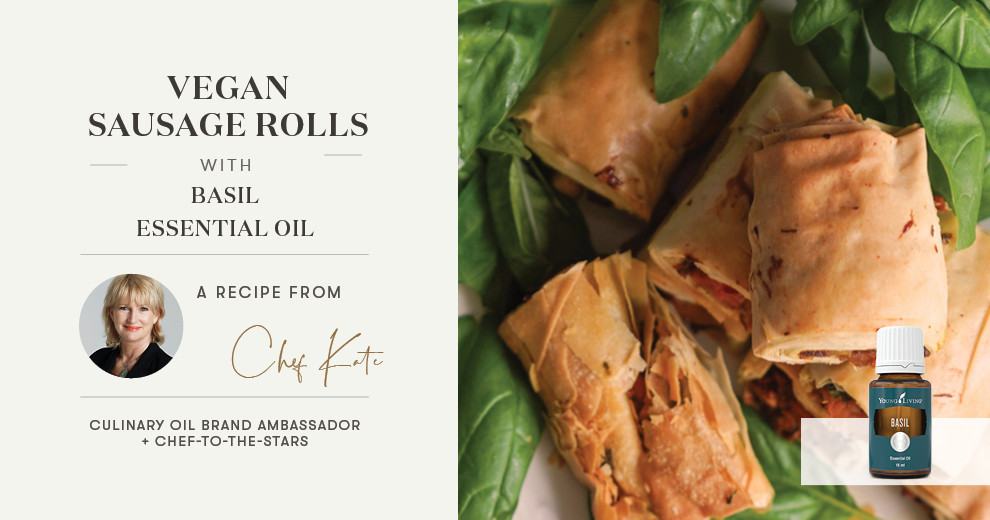 These Vegan Sausage Rolls are really yummy and easy to make! The Basil Essential Oil gives a wonderful hint of savoury flavour to the sauce. This is the perfect crispy treat for afternoon tea, picnics or parties.
TIP You can keep your puff pastry in the freezer and just remove sheets as needed and thaw for approx. 10 minutes before using.
NOTE You can make 4 large sausage rolls if you like or 12 small ones. The rolls are great served hot or chilled. If you have the time, make a double batch of sausage roll and freeze some rolls before you bake to have on hand. Then just thaw them for approx. 15 minutes and bake as per the instruction in the method.

Ingredients
Ingredients for Vegan Sausage Rolls:
2 sweet potatoes, peeled and cut in approx. 2cm cubes
1¼ cups cooked chickpeas (approx. 1 can chickpeas)
1 tbsp tomato puree or tomato sauce
1 small clove garlic, finely minced
¼ cup finely chopped fresh parsley (optional)
1 flax egg (1 tbsp flax seeds and 2½ tbsp water)
1 tsp sea salt and freshly ground pepper (to taste)
2 drops Basil Essential Oil (to taste)
1 sheet puff pastry or gluten-free puff pastry
1 tbsp olive oil or melted coconut oil (for brushing on rolls)
Ingredients for Tomato Basil Dipping Sauce:
½ cup tomato puree or tomato sauce
¼ cup vegan mayonnaise
1 tsp fresh lemon juice (to taste)
1 – 2 tsp maple syrup (to taste)
1 – 2 drops Basil Essential Oil (to taste)
2 drops Lemon Essential Oil (to taste)
½ tsp sea salt (to taste)
freshly ground pepper (to taste)
Instructions
1. Preheat the oven to 180C and line a baking tray with baking paper. Take a sheet of puff pastry out the fridge and set aside until you are ready to use it.
2. Peel the sweet potatoes and cut into small pieces about 2cm and drizzle with a little oil and sprinkle over salt and pepper then place in the oven. Bake the sweet potato for approx. 15 – 20 minutes and then remove from the oven. They should be soft and starting to brown and crispy on the edges. When baked remove from oven and cool for 10 minutes.
3. Meanwhile, make the flax egg by mixing the flaxseeds with 2½ tbsp of water and set aside to thicken.
4. Place the cooled sweet potato cubes, chickpeas, tomato puree, garlic, Basil Essential Oil, salt, pepper and flax egg in a food processor and process until mostly smooth with a few lumps to give a little texture to the filling. Place the mixture in a medium bowl, add the parsley, if using and mix in by hand.
5. Place the puff pastry sheet on chopping board topped with a pieces of baking paper (this helps the dough not to stick to the board). Cut the pastry evenly down the middle lengthwise creating two rectangle pieces.
6. Divide the sausage mixture in half and place half on each half of the pastry. Spread the filling over the pastry leaving approx. 2cm of uncovered pastry at the end of each piece. This is where the pastry will attach to itself to form the rolls (if you do not leave this border the rolls can unroll).
7. Then gently roll the pastry over the sausage filling until you reach the uncovered pastry. Then roll the second piece. Make sure the rolls are laying with the seam on the bottom.
8. Cut across the middle of each roll forming 4 pieces then cut each of those into 3 pieces so you have 12 rolls all together. You can also make 4 large rolls, if you prefer. Then transfer the rolls to the baking sheet seam side down.
9. Brush each sausage rolls with olive oil and make a little slice in the top of each roll to allow steam to be released while baking. Place the rolls in the oven at 180C and bake for approx. 20 minutes until cooked through and golden brown.
10. While the rolls are baking make the dipping sauce. Place all the sauce ingredients in a medium bowl and stir well to combine. You can make the sauce a day ahead if you like and refrigerate until needed and any leftover sauce will keep for up to 4 days in the fridge.
11. When the rolls are done baking serve immediately with dipping sauce.
© 2021 COPYRIGHT (C) 2018 – ALL RIGHTS RESERVED – YOUNG LIVING
The post Vegan Sausage Rolls appeared first on Young Living Australia.