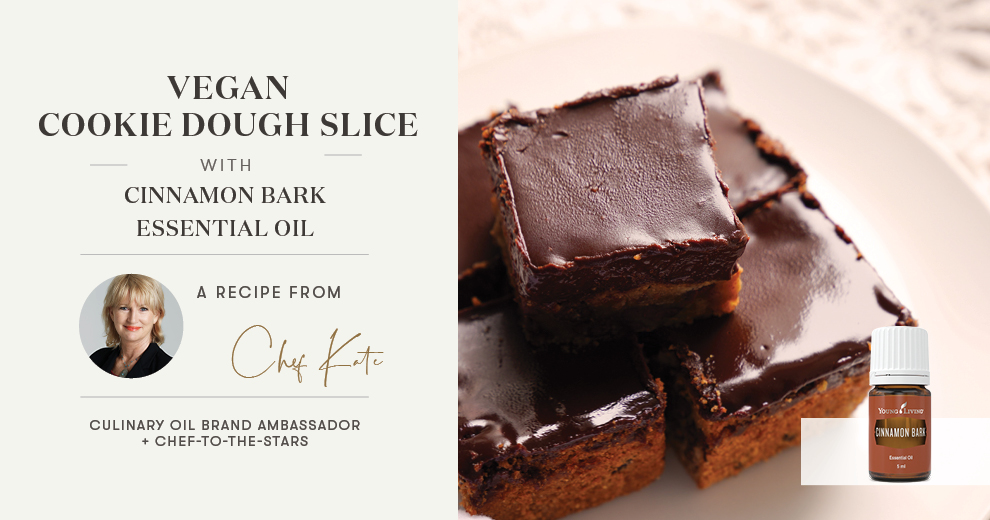 This Vegan Cookie Dough Slice is a healthy and yummy treat that's sure to become a favourite! If you have kids the recipe is pretty easy so let them help you create the slice if you like. The Cinnamon Bark Essential Oil really adds a wonderful spicy note to the slice.  Try adding nuts, seeds and dried fruit to make the recipe your own.
TIP For this recipe, I have used vegan chocolate chips you can also add chopped nuts, shredded coconut and/or raisins, currents or goji berries, if you like.
NOTE You can also use a seed butter/spread and ground seeds like pumpkin in place or the almond meal if you are nut sensitive, though the consistency and taste will be different.

Ingredients
Cookie Dough Ingredients:
3 cups almond meal (finely ground almonds)
¾ cup nut butter/spread (almond, peanut or cashew)
1/3 cup maple syrup (to taste)
3 tbsp coconut sugar (to taste)
1 tsp vanilla
2 drops Cinnamon Bark Essential Oil (to taste)
½ tsp salt (to taste)
½ vegan chocolate chips
Chocolate Glaze Layer Ingredients:
1/3 cup cacao powder
1/3 cup maple syrup (to taste)
¼ cup coconut oil (melted)
Instructions
1. Line a medium square baking pan with baking paper and set aside.
2. Place all the cookie dough ingredients into a large bowl (except the chocolate chips) and mix until well combined. Then add the chocolate chips and gently mix them in.
3. Place the cookie dough in the pan and press it evenly to cover the bottom of the pan and up the sides a little.
4. Make the chocolate glaze by placing the cacao powder, maple syrup and melted coconut oil in a medium bowl. Whisk all the glaze ingredients together. The glaze will thicken as you whisk it.
5. Pour the glaze over the cookie dough and evenly spread it over the entire top of the dough. If you would like to have some chocolate chips or nuts sprinkled on top of the bars sprinkle them around now.
6. Place the pan in the freezer to set for 15 – 30 minutes before slicing. You can also place in the refrigerator for 1 hour before slicing.
7. Slice the bars into 12 large squares or up to 24 smaller bars. Store covered in the refrigerator for up to 1 week.
© 2021 COPYRIGHT (C) 2018 – ALL RIGHTS RESERVED – YOUNG LIVING
The post Vegan Cookie Dough Slice appeared first on Young Living Australia.