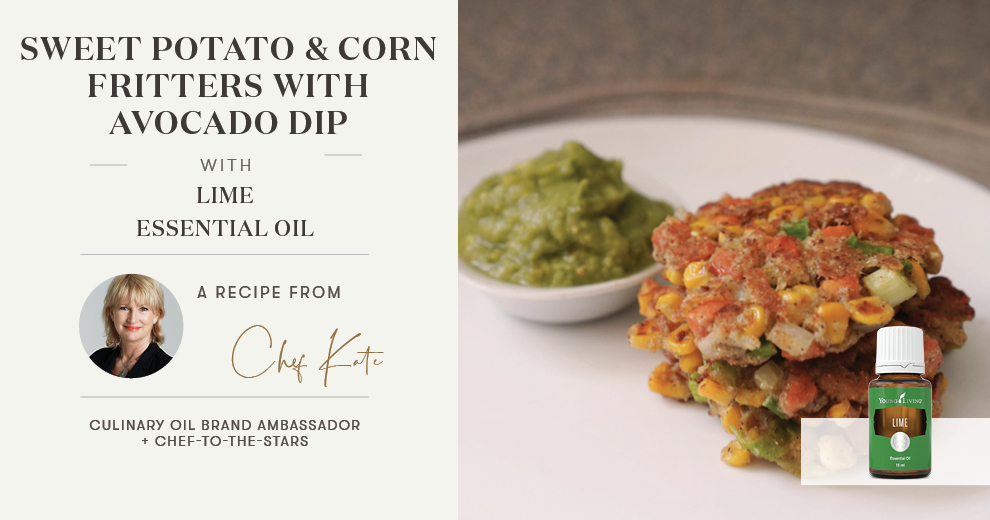 These tasty Sweet Potato and Corn Fritters are easy to make and great as a vegetarian main or side dish.  You can also serve them for brunch topped with poached or scrambled eggs. They are wonderful to serve like burgers too. For a little added crunch try adding a few pumpkin seeds and/or sunflower seeds to the mixture before cooking.
NOTE To make this recipe vegan you can substitute a 'chia egg' in place of the egg. To make a chia egg place 1 tablespoon of chia seeds in a small bowl and add 3 tablespoons of water. Stir together and set aside for approx. 5 minutes until it the mixture forms a gel. Then use in the recipe instead of the regular egg.
TIPS Using the fresh citrus juice when making the avocado dip helps to prevent the avocado from turning brown usually. If you prefer the dip to be a little less thick you can add a little water 1 tablespoon at a time until desired consistency is achieved.
The post Sweet Potato and Corn Fritters with Avocado Dip appeared first on Young Living Australia.