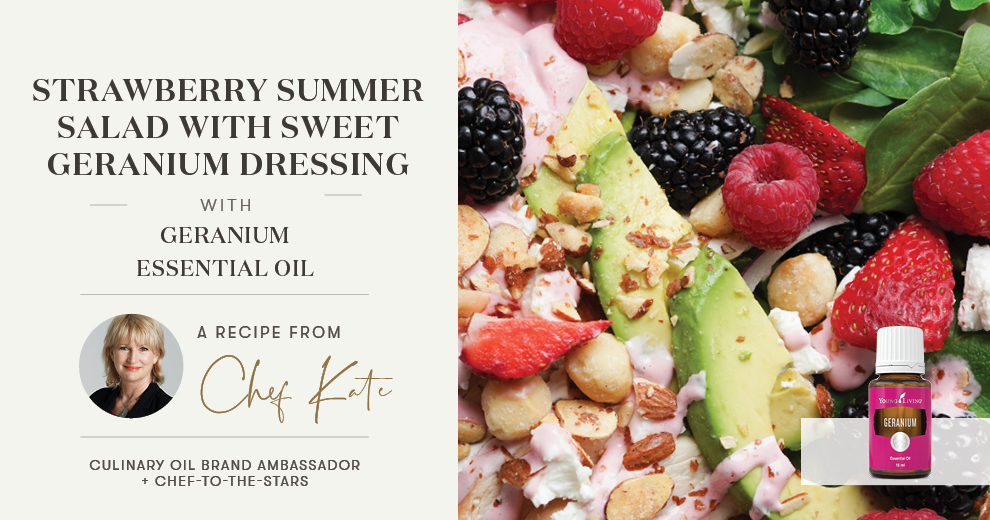 Gorgeous Strawberry Summer Salad topped with berries, red onion, macadamia nuts and drizzled with a flavourful Sweet Strawberry Geranium essential oil Dressing. This recipe is colourful, crunchy and creamy, making it the perfect lunch or easy side dish!
This is the perfect salad to serve on the warmer days as we desire fresh, lighter dishes. Geranium oil adds a delightful floral note to the dressing! You can also use lavender oil if you prefer.
To make it a main dish try adding a few pieces of protein like sliced halloumi cheese, tofu, chicken, salmon or prawns. Grilled zucchini or eggplant are also great veggie options. Avocado is a wonderful addition too. If you are adding a protein to your salad you can either pan sear or grill it until it is cooked to your liking.
TIP I like using the Toothpick Method for some of the stronger oils like oregano, thyme, lavender, geranium, black pepper and ginger. Using this method helps to control the amount of oil you add to a dish or drink.
I suggest soaking the onion pieces in water, to cover for 5 – 10 minutes and then drain them well. This helps to take the raw bite and scent out of the onions.
Toothpick Method: Dip a toothpick in the bottle of oil and then swirl it in the dish or drink, mix in well and taste. If you desire more of that oil's flavour repeat using a new toothpick each time until you are happy with the amount.
NOTE If you are serving 6 increase the salad greens and add a few more berries and nuts so there is plenty of salad. You can also double the dressing ingredients and have some leftover. It's great on grilled chicken and veggies too!
SERVES 4 – 6
PREP TIME 20 – 25 minutes
COOKING TIME 8 – 10 minutes (if adding a protein)
Ingredients
2 – 3 cups baby spinach and/or rocket (or mixed salad greens and/or coz lettuce)
1 – 2 cups assorted berries
1 small red onion, thinly sliced (optional)
avocado slices (optional)
½ cup raw or toasted macadamia nuts (or other nuts and/or seeds)
Raspberry Geranium Dressing Ingredients
2 tbsp fresh lemon juice
1 cup mayonnaise (or vegan mayo)
2 tbsp honey or maple syrup (to taste)
½ tsp sea salt and pepper (to taste)
1 drop geranium oil (using the toothpick method, to taste)
Method
Prepare the salad greens, slice the red onion (and soak per TIP), clean the berries and set aside while you make the salad dressing and cook a protein, if adding one. You can serve the protein warm or chilled, if chilling, cook at least an hour before you are planning to serve the salad and chill the protein or veggies.
Make the dressing by blending all the dressing ingredients in a blender until combined well. Taste and add a little more lemon juice, honey, salt and/or geranium oil, if desired.
When you are ready to serve the salad place the salad greens on a platter, in a bowl or on individual plates. Place the berries, onion slices, nuts and protein, if using around the salad and drizzle with the dressing. You can also serve the dressing in a bowl and let everyone help themselves.
If you love the taste of Geranium oil in your dishes, you should try our gluten-free Red Velvet Cupcakes with Cream Cheese Frosting recipe!
The post Strawberry Summer Salad with Sweet Geranium Dressing appeared first on Young Living Australia.