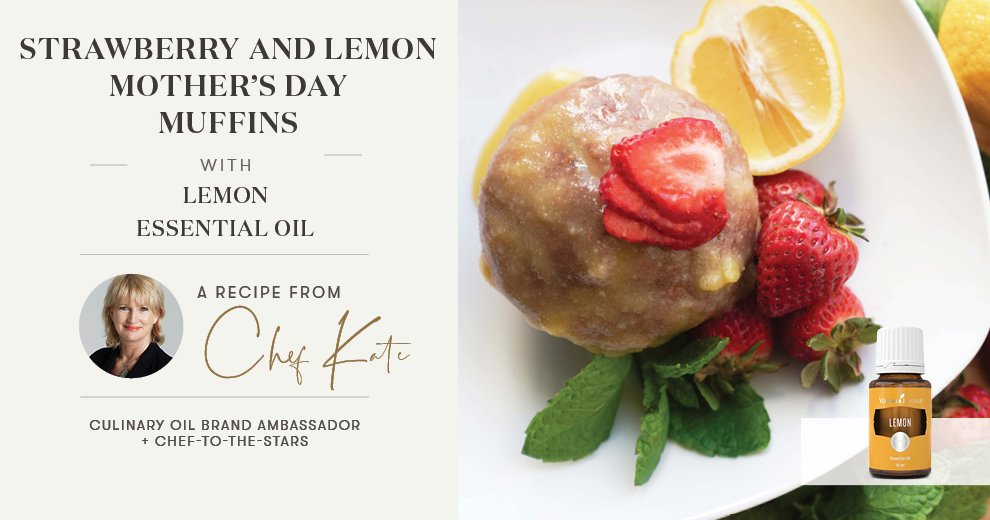 Spoil your mum to a delicious treat this Mother's Day. Whether you're planning breakfast in bed, high tea or a picnic in the sun, these Strawberry and Lemon Muffins will be perfect sweet treat for mum.
This recipe includes Jade Lemon Essential Oil which gives a great citrusy twist. They are great served with Strawberry Honey Butter.
TIP: You can also use this recipe to make a Strawberry Lemon Loaf. Simply use a loaf pan instead and follow the recipe below.
NOTE: I like to use mini muffin tins, but you can use the regular size ones too. These muffins don't rise very much so fill the tins to the top.

Ingredients
Dry Ingredients
1½ cups gluten-free flour mix (or regular flour)
½ cup almond meal flour (finely ground almonds)
½ cup desiccated coconut
¼ cup chia seeds
1 tsp aluminium-free baking powder
1 tsp sea salt (to taste)
Wet Ingredients
6 eggs, beaten
¾ cup coconut milk (or milk of choice)
¾ cup maple syrup
½ cup honey (or more maple syrup)
¼ cup melted coconut oil or butter
2 tsp vanilla essence (optional)
4 – 6 drops Jade Lemon Essential Oil (to taste)
1 cup strawberry pieces (approx. 8 – 10 strawberries)
1 cup chopped nuts (optional)
Strawberry Lemon Honey Butter Ingredients
1 cup butter or ghee (softened to room temperature)
¼ cup honey or maple syrup
½ cup finely chopped strawberries or other berries (smashed a little)
2 tbsp coconut oil (softened)
1 – 2 drops jade lemon oil (to taste)
Instructions
Preheat oven to 180C and prepare the muffin tins by rubbing them with coconut oil or butter. You can also line the muffin tins with muffin papers and they are great because you can easily take the muffins with you.
In a large bowl mix together the dry ingredients and set aside. In a medium bowl mix all the wet ingredients together except the berries and nuts and set aside for 5 minutes to let the chia seeds expand.
Add the wet mixture to the dry mixture and gently mix well to combine. If there are any lumps, break them up with the back of a spoon and then gently fold in the berries and nuts.
Bake for 25 – 30 minutes. You may need to loosely cover the muffins with baking paper if they are browning too quickly and reduce the oven temperature a little depending on your oven.
They are done when a toothpick inserted in the middle comes out clean, but they will still be moist in the middle. Serve immediately, or cool and keep in a sealed container for up to 4 days or freeze for up to 1 month.
For the icing, mix all the ingredients until well combined and the strawberry pieces have blended into the butter mixture. You can serve right away or keep in the fridge for up to 1 week. You can also freeze some for up to 1 month and just take it out of the freezer approx. half an hour before you are ready to serve.
© 2021 COPYRIGHT (C) 2018 – ALL RIGHTS RESERVED – YOUNG LIVING
The post Strawberry and Lemon Mother's Day Muffins appeared first on Young Living Australia.