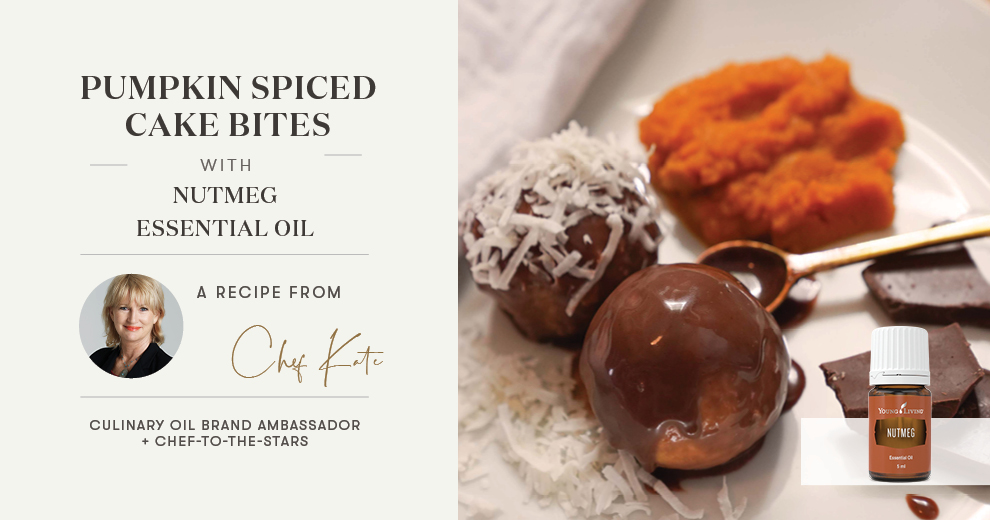 Looking for the perfect, comfort treat to get in the spooky spirit? This Pumpkin Spiced Cake Bites recipe will have you feeling cosy and nostalgic with the flavour of Nutmeg essential oil. Plus, they are easy to make so you can get the kids involved!
TIP If you are feeling fancy try dipping the Pumpkin Spiced Cake Bites into melted chocolate. Yum! You can also roll them in finely shredded coconut for a fruity kick.
Ingredients
1 cup cooked pumpkin puree
¼ cup maple syrup or honey (to taste)
½ tsp cinnamon
1 – 2 drops Nutmeg essential oil (to taste)
1 drop Cinnamon essential oil
1 drop Ginger essential oil
¼ tsp sea salt
2½ cups almond meal
¾ cup white and/or dark chocolate chips
Instructions
1. Place all the ingredients except the almond meal and chocolate chips in a large bowl and whisk together until the mixture is well combined.
2. Then fold in the almond meal with a mixing spoon or spatula and mix for approx. 1 minute until fully combined. The cake mixture will be wet and moist. Taste the mixture and add a little more maple syrup or honey, if you like.
3. Using a tablespoon scoop a heaping spoonful and form into a ball with your palms and repeat until all the batter is gone.
4. Once the balls are formed you can either place add chocolate chips or melt the chocolate and drizzle on top.
5. Serve them immediately or store in an air-tight container for up to 4 days.
© 2021 COPYRIGHT (C) 2018 – ALL RIGHTS RESERVED – YOUNG LIVING
The post Pumpkin Spiced Cake Bites appeared first on Young Living Australia.