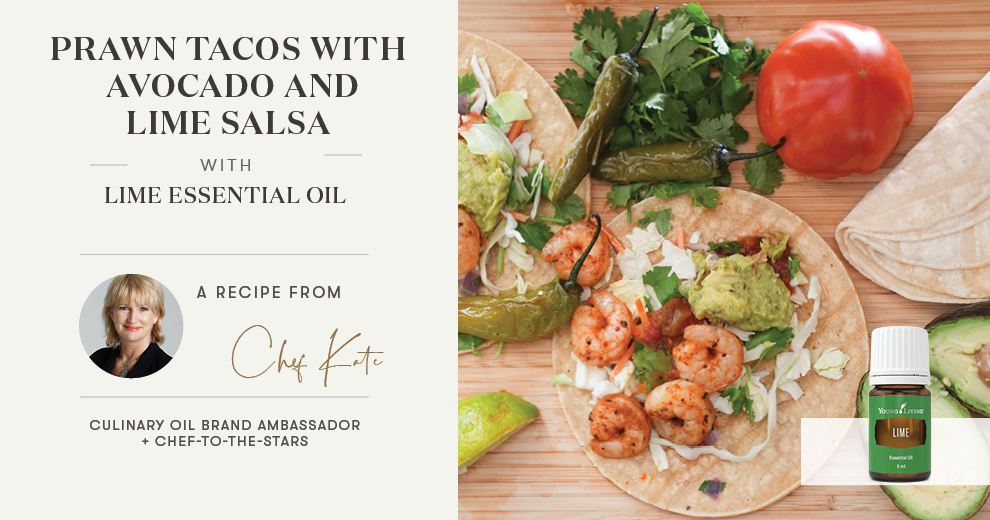 These Prawn Tacos with Avocado and Lime Salsa are so fresh and good! There are a few steps but it all comes together easily once prepped. I suggest making the spice blend, mayo sauce and salsa before you cook the prawns so everything is ready to go. Once the prawns are cooked and the tortillas are heated, I like to serve the tacos immediately. It's fun to set everything up and let people assemble their own especially for a gathering or family dinner.
TIP You can make these veggie or vegan tacos by using cooked tofu pieces or halloumi pieces in place of the prawns and sautéing with the Mexican Spice Blend in olive oil.
To make Mexican Spice Blend: In a small bowl mix together 2 tbsp cumin seeds, 1 tbsp ground cumin powder, 1 tbsp paprika, 1 tbsp smokey paprika, 1 tsp dried thyme, ½ tsp ground coriander powder (optional), 1 tsp sea salt (to taste), freshly ground black pepper (to taste) and ¼ tsp chili flakes (optional, to taste).
You can also use a store-bought Mexican Spice Blend. I like ones from the health food store as they have cleaner ingredients.

Ingredients
Prawn Taco Ingredients:
12 – 16 prawns (shelled, cleaned and raw)
3 tbsp Mexican Spice Blend (included above)
2 tbsp olive oil or coconut oil
8 small corn tortillas or taco shells
¾ cup shredded cabbage (white and/or purple)
1 medium carrot, grated
½ cup fresh corn kernels (optional)
½ cup grated cheese (optional)
Mexi Mayo Sauce Ingredients:
¾ cup mayonnaise or vegan mayo
2 tbsp maple syrup or honey
1 tbsp fresh lime or lemon juice (to taste)
¼ cup water (to thin sauce)
4 drops lime essential oil (to taste)
1 tbsp Mexi Spice Blend
1 tsp smokey paprika
¼ tsp sea salt and freshly ground pepper (to taste)
Avocado & Lime Salsa Ingredients:
1 ripe avocado (cut in small pieces)
1 medium tomato (cored and cut in small pieces)
¼ cup finely chopped red onion (optional)
2 spring onions, finely chopped
1 tsp maple syrup or honey (optional, to taste)
a little finely chopped jalapeño (optional, to taste)
2 tbsp fresh lime and/or lemon juice (to taste)
2 tbsp roughly chopped coriander and/or parsley
1 tsp Mexi Spice Blend
½ tsp sea salt and freshly ground pepper (to taste)
2 – 4 drops lime essential oil (to taste)
Instructions
1. For the Mexi Mayo Sauce, place all the sauce ingredients in a medium bowl and mix well. Then chill until you are ready to serve.
2. For the Avocado and Lime Salsa, place all the salsa ingredients in a medium bowl and mix gently. Serve immediately or refrigerate for 1 – 2 hours until ready to serve. If you plan to make the salsa ahead, I suggest adding the avocado right before serving to prevent it from turning brown.
3. Now it's time to cook the prawns and assemble tacos. First, prep the veggies by shredding the cabbage, grating the carrot and cutting the corn from the cob and place each in small bowls. Grate the cheese, if using and place in a bowl.
4. Preheat the oven to 180C, wrap the tortillas in baking paper then foil and place them in the oven to heat while you are cooking the prawns. They should take approx. 5-10 minutes to heat. You can turn the oven down to 110C to keep them warm if you need more time before serving.
5. Meanwhile, heat a large frying pan on medium-high heat, add the oil and then the prawns and sprinkle them with approx. 3 tbsp of the Mexican Spice Blend. Cook while stirring often until cooked through (approx. 5 – 10 minutes).
6. To serve the tacos place 2 heated tortillas on a plate, add some raw veggies and cheese, a few prawns, a little salsa and then top with some Mexi Mayo Sauce and serve immediately.
© 2022 COPYRIGHT (C) 2018 – ALL RIGHTS RESERVED – YOUNG LIVING
The post Prawn Tacos with Avocado and Lime Salsa appeared first on Young Living Australia.