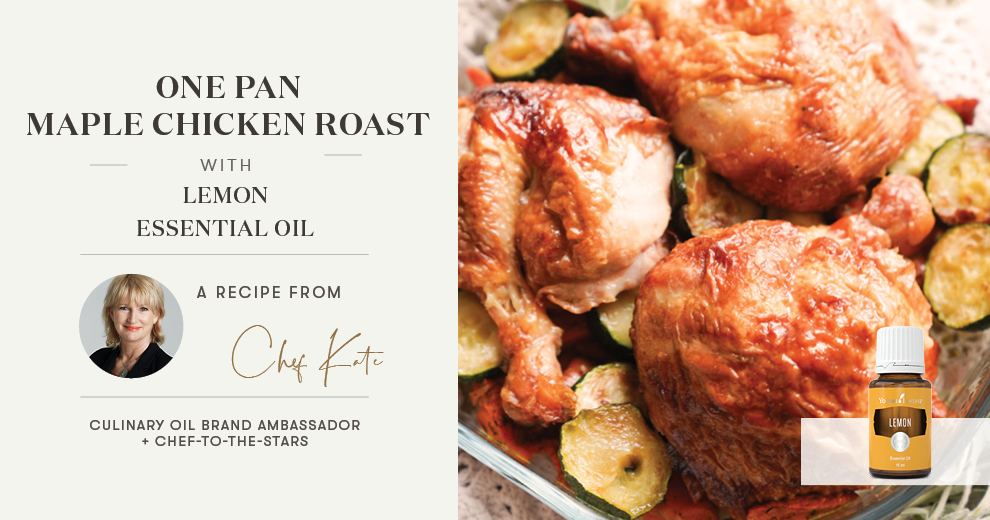 Looking for the perfect Christmas dish? You must try this One Pan Maple Chicken Roast to minimise the stress this festive season!
This is one of my favourite ways to make a delicious nutritious meal in a hurry. Simply prepare everything and pop it into a baking dish and in about 40 minutes you have a great one-pan meal. It gives you time to make a big salad and/or a grain dish if you like and you can check your emails while it bakes! Kidding about the emails but the oven does most of the work, so you can use the time as you like.
TIP For a vegetarian option you can use thick halloumi slices and for a vegan option, you could use thick tofu slices and just marinade them per the instructions for the chicken.
NOTE Use any combination of vegetables including pumpkin and squash pieces. Use as big a baking dish or oven tray as you like, depending on how many people you are feeding or make extra for leftovers. Before serving sprinkle with fresh herbs sprigs, if desired.
Ingredients
Glaze Ingredients:
2 tbsp olive oil
¼ cup maple syrup (to taste)
½ cup Dijon mustard (or other mild mustard)
6 – 8 drops Lemon essential oil (to taste)
½ tsp sea salt and freshly ground pepper (to taste)
Roasting Ingredients:
4 – 6 chicken thighs (skin on) or breast
1 sweet potato, cut into large pieces
1 zucchini, cut into large pieces
2 – 3 carrots, peeled and cut into large pieces
¼ cup filtered or spring water or chicken stock
½ tsp sea salt and freshly ground pepper (to taste)
2 tbsp olive oil (for roasting)
2 tbsp chopped parsley and/or fresh herb sprigs (thyme or sage), optional for serving
lemon wedges, optional for serving
Instructions
1. Preheat the oven to 180C and line a large baking dish with baking paper.
2. Make the glaze by mixing the olive oil, maple syrup, mustard, Lemon essential oil, sea salt and pepper in a small bowl and set aside until you are ready to roast the chicken.
3. Pour 2 tbsp olive oil in the bottom of the baking dish and spread it around and then place all the veggies in the baking dish and turn them a little to coat with oil, then pour in the water or chicken stock.
4. Place the chicken in the baking dish skin-side up on top of the veggies and generously sprinkle with sea salt and pepper. Then either brush on or gently pour some of the glaze on each piece of chicken. Then spread over chicken to cover.
5. Bake for approx. 35 – 45 minutes or until the chicken is cooked through and the veggies are tender and golden. You may need to cover the dish with a little baking paper while baking if the veggies are browning too quickly.
6. Remove from oven and sprinkle with freshly chopped parsley and a few lemon wedges. Serve with a salad and/or grain dish, if desired. The leftovers will keep for up to 4 days refrigerated and are great served chilled too.
© 2021 COPYRIGHT (C) 2018 – ALL RIGHTS RESERVED – YOUNG LIVING
The post One Pan Maple Chicken Roast appeared first on Young Living Australia.