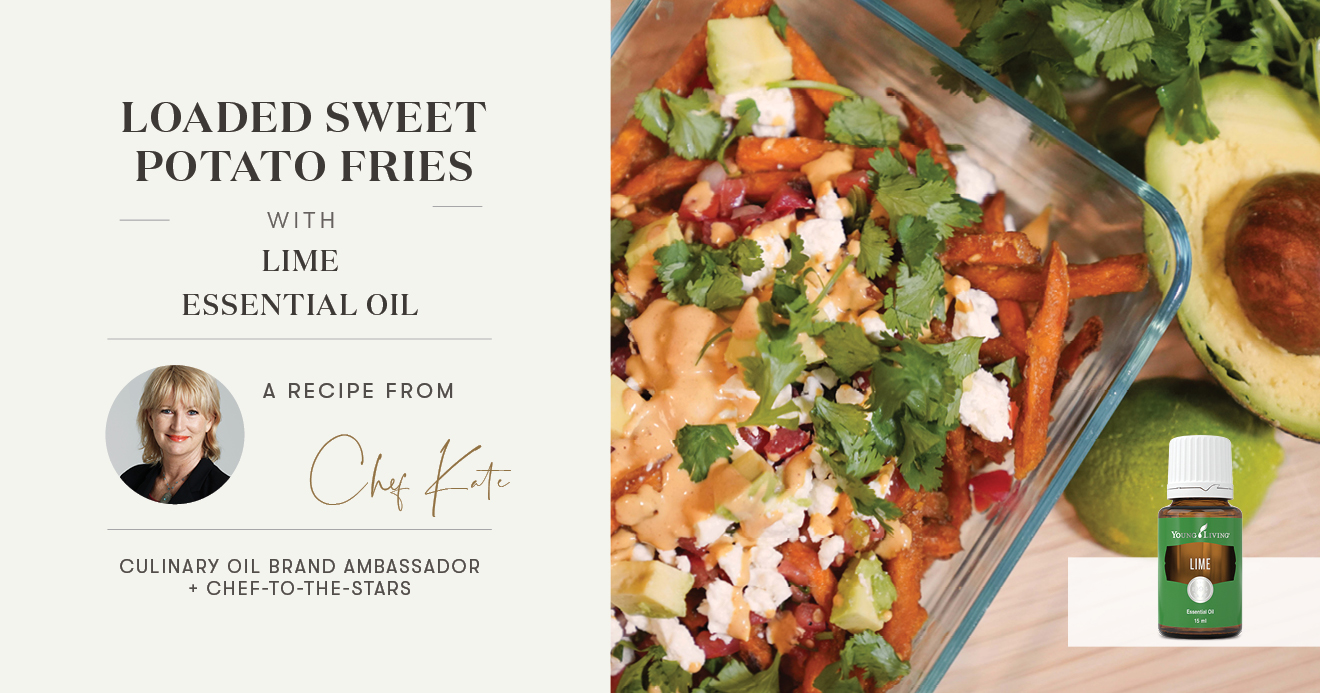 These Loaded Sweet Potato Fries are sure to be a hit with your family and friends! They are really easy to make and topped with healthy ingredients. The Lime essential oil really adds zest to the dipping sauce and fries. Use the list of toppings as a suggestion and come up with a few of your own if you like. I also enjoy adding a few finely chopped sautéed veggies (like onion, carrots and zucchini), cheese and beans sometimes.
TIP You can add a little cooked mince or shredded cooked chicken, if you like or try adding some crumbled cooked seasoned tofu as a great vegetarian option.
NOTE The dipping sauce recipe makes approx. 1 cup and you will need about ½ cup for drizzling over the fries and you can use the rest to dip your fries in.

Ingredients
Sweet Potato Ingredients:
4 medium sweet potatoes (peeled)
2 tbsp olive oil (or other oil of choice)
2 drops Lime essential oil
½ tsp dried thyme (optional)
½ tsp garlic powder (optional)
½ tsp paprika or chili powder (mild or hot)
½ tsp sea salt and freshly ground pepper (to taste)
½ cup dipping sauce
Dipping Sauce Ingredients:
1 cup mayonnaise or vegan mayo
2 tbsp fresh lemon or lime juice (to taste)
2 tbsp water (thin as needed)
2 tbsp finely chopped coriander, mint or/or parsley
1 tbsp maple syrup or honey (optional, to taste)
2 – 4 drops Lime essential oil (to taste)
½ tsp sweet or spicy paprika (to taste)
¼ tsp sea salt and freshly ground pepper (to taste)
Optional Toppings for Serving:
1 – 2 ripe avocados mixed with 3 drops lime oil and sea salt (to taste)
½ cup cheddar cheese or non-dairy cheese
¼ cup fetta cheese
salsa and/or hot sauce
dipping sauce (drizzle some on top of fries)
chopped coriander and/or spring onions
Instructions
1. Preheat oven to 220C and line a baking tray with baking paper.
2. Peel the sweet potatoes then cut the ends off the potatoes and cut them in half along the middle and cut those pieces in half. Now you are ready to carefully cut the potatoes into fries.
3. Place the fries in a large bowl and toss with the olive oil, Lime essential oil and spices to coat.
4. Place the fries on the prepared baking tray and bake for 25 minutes then carefully turn the fries over and bake for approx. 20 minutes longer or until cooked through and a little crispy.
5. While the fires are baking make the dipping sauce by placing all the ingredients in a blender or food processor and blending until well combined. You can also finely cut the herbs and just mix all the ingredients together in a bowl. Taste the sauce and add a little more Lime essential oil, maple syrup and/or salt, if desired.
6. When the fries are done place them on a large platter. Mash the avocado in a bowl with the Lime essential oil and sea salt. Top the fries with the avocado and any additional toppings. Then drizzle with the dipping sauce, sprinkle with freshly cut herbs and spring onions and serve immediately.
© 2021 COPYRIGHT (C) 2018 – ALL RIGHTS RESERVED – YOUNG LIVING
The post Loaded Sweet Potato Fries appeared first on Young Living Australia.