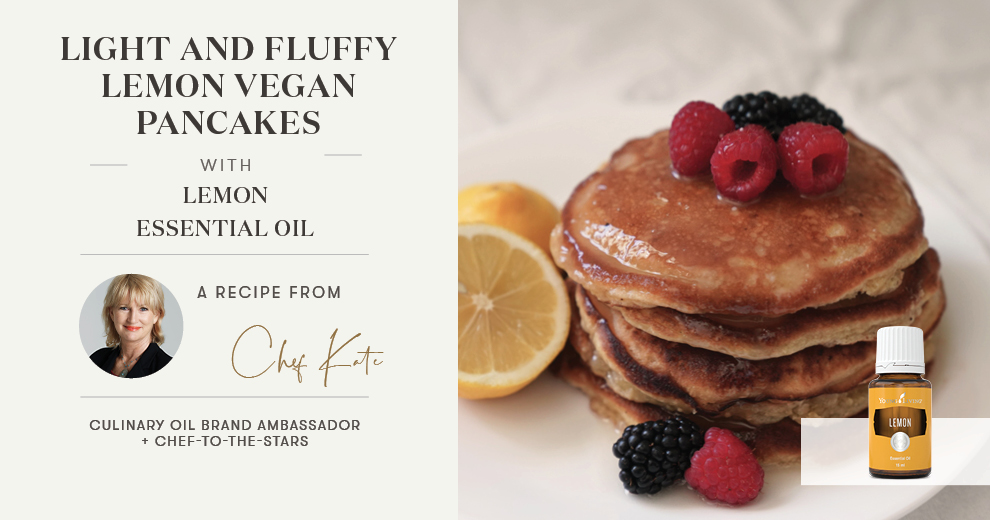 These Light and Fluffy Lemon Vegan Pancakes are full of nutritious ingredients to give your day a great and healthy start! I love serving them on the weekend or for brunch with family and friends. You can drizzle the top of the pancakes with Coconut Lemon Syrup (recipe below) or use maple syrup, honey and/or jam, if you prefer. For a really special occasion try topping with sweetened coconut yoghurt or vegan ice cream and a few berries.
TIP Try adding any of these ingredients to the batter for variety: ½ cup chopped nuts, ½ cup blueberries or raspberries and/or ½ cup chocolate chips.
To make 2 chia eggs for this recipe. Place 2 tablespoons of chia seeds in a small bowl and stir in ½ cup of water. Mix together well and set aside for approx. 5 minutes until it the mixture forms a gel. Then use in the recipe instead of the regular egg. You can use 2 regular eggs if you do not want to make vegan pancakes.
NOTE This makes a semi-thick batter. Add a little more milk or water to thin if needed. If you are gluten sensitive be sure to use gluten-free flour and oats. You can also omit the oats if you prefer and add ½ cup more of flour instead.

Ingredients
Dry Ingredients:
1½ cups gluten-free self-rising flour blend (or regular self-rising flour)
¾ cup rolled oats (or gluten-free rolled oats)
¼ tsp sea salt (to taste)
Wet Ingredients:
2 chia eggs (recipe in TIP) or 2 regular eggs
1½ cup coconut milk or milk of choice
3 tbsp coconut oil (melted)
2 tbsp maple syrup (to taste)
1 tsp vanilla (optional)
6 drops lemon oil (to taste)
coconut oil (for cooking the pancakes)
Tangy Lemon Coconut Syrup Ingredients:
½ cup coconut cream (unsweetened)
2 – 3 tbsp maple syrup (to taste)
2 tbsp fresh lemon juice
1 tsp vanilla (optional)
4 – 6 drops lemon oil (to taste)
Instructions
1. Make the Tangy Lemon Coconut Syrup by placing the coconut cream, maple syrup, fresh lemon juice and vanilla in a small saucepan over medium-low heat. Simmer for 5 minutes then remove from heat and add the lemon oil. Cover and set aside until ready to pour over pancakes.
2. In a medium-large bowl mix all the dry ingredients together and set aside. Then in a separate bowl mix the wet ingredients together and then stir the wet ingredients into the dry ingredients and mix well. If the batter is too thick add a little water or coconut milk and mix well.
3. Then pour the batter into a bowl and add berries and any other ingredients like nuts or chocolate chips and gently mix by hand to combine.
4. To make the pancakes heat a large (preferably non-stick) frying pan or griddle to medium-high heat and add a generous amount of coconut oil (you can use butter too, if you prefer) to the pan and let it heat until melted and bubbling. Then spoon or pour enough pancake batter into the pan or onto the griddle to form a 7 cm (approx.) round—or a little larger pancake. Repeat, leaving a little space between pancakes for turning. Do not overcrowd the pan.
5. Cook for approx. 2 minutes on one side or until little air holes start to form on top of the pancakes, then flip them over carefully and cook for approx. 2 – 3 more minutes. Be careful not to burn them and adjust the temperature of the pan, if needed. Repeat cooking steps until all the pancakes are cooked or save some of the batter for the next day.
6. Serve immediately or transfer to an oven-safe baking dish and loosely cover with baking paper and place them in a 120C oven to keep warm until ready to serve.
© 2021 COPYRIGHT (C) 2018 – ALL RIGHTS RESERVED – YOUNG LIVING
The post Light and Fluffy Lemon Vegan Pancakes appeared first on Young Living Australia.