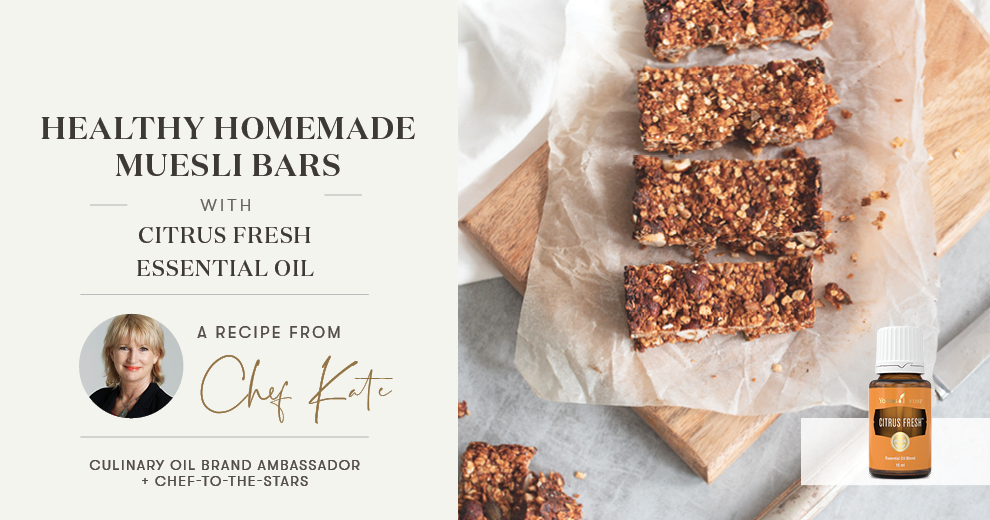 Looking for the perfect lunch box snack for your kids… or you? Look no further, these Healthy Homemade Muesli Bars are loaded with good-for-you ingredients and best of all, they're easy to make!
These tasty bars are the perfect treat for school lunches and after-school snacks. They are also great to take to work and are something the whole family can enjoy. If you are pressed for time in the morning, crumble a bar in a bowl, top with yoghurt and a little fresh fruit and you'll have a healthy breakfast in no time.
TIP The ingredient list is a little long, but don't let that scare you; these bars are really easy to make and worth the effort. The Citrus Fresh essential oil adds a lovely citrus note. You could also use Lavender, Lemon or Orange in place of Citrus Fresh.
NOTE You can use a nut butter/spread (like almond, peanut or macadamia) in place of the seed spread if you are not nut sensitive and add ½ cup of chopped nuts too, if you like. I really love coconut butter/spread in these bars in place of the seeds spread, which you can find in a health food store or online. Try adding dark chocolate (70% naturally sweetened) chips or chunks for an extra special treat or perhaps a few cacao nibs.
Ingredients
½ cup (125ml) melted coconut oil, ghee or butter
¼ cup pumpkin seed butter/spread or coconut butter/spread
½ cup (100gm) coconut sugar
¾ cup (185ml) honey, maple syrup, or coconut syrup
¼ tsp sea salt
3 – 5 drops Citrus Fresh oil (to taste)
2 cups gluten-free oats
3 tbsp gluten-free flour or coconut flour
½ cup (40gm) shredded coconut (reserve 2 tbsp for topping)
½ cup sunflower seeds (reserve ¼ cup for topping)
½ cup pumpkin seeds (reserve ¼ cup for topping)
½ cup sesame seeds (reserve 2 tbsp for topping)
2 tbsp honey or coconut syrup (for drizzling over bars)
Instructions
Preheat oven to 160C and line a medium baking tin with baking paper. Generously rub coconut oil on the paper and set aside.
In a large saucepan combine the coconut oil, nut or seed butter/spread, coconut sugar, honey and salt and cook on low heat while stirring for approx. 3 minutes until the ingredients have melted, dissolved and combined. The coconut sugar may not fully dissolve and that's fine. Remove from heat. Add the rest of the ingredients and any Optional Additions you choose and mix thoroughly.
Spread the mixture into the prepared baking tin and smooth the top. Then sprinkle the remaining shredded coconut and seeds over the mixture and drizzle 2 tablespoons of honey or coconut syrup on top.
Bake for 20 – 30 minutes until golden brown around the edges and the middle is semi-set. (Check after 15 minutes to see if the top is browning too quickly and loosely cover with baking paper if needed).
Remove from oven and cool completely in the pan. Lift the bars out of the pan by pulling up on the baking paper. Then transfer to a chopping board and cut into desired sized pieces and remove the baking paper. You can drizzle with a little more honey or coconut syrup before cutting, if you like. The bars will keep in an airtight container or wrapped in baking paper then foil for a few days.
© 2021 COPYRIGHT (C) 2018 – ALL RIGHTS RESERVED – YOUNG LIVING
The post Healthy Homemade Muesli Bars appeared first on Young Living Australia.