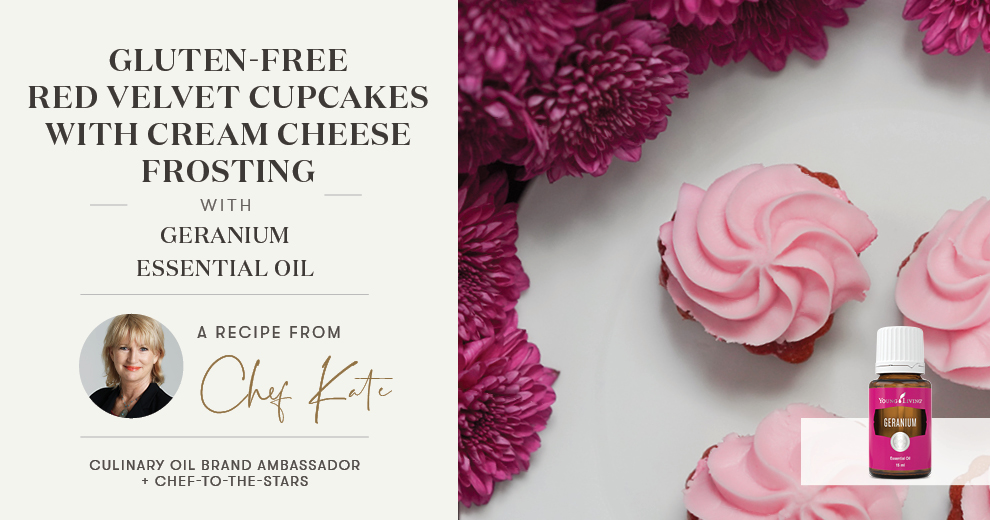 Looking for the perfect sweet treat to bake your loved one this Valentine's Day? Look no further – you need to try these gluten-free red velvet cupcakes with cream cheese frosting! 
These cupcakes are delicious, moist, and full of healthy goodness. The Geranium oil goes really well with chocolate, but a little bit goes a long way so use the toothpick method I've included. I've also used a little rose oil in place of the geranium oil in this recipe before for special occasions…it's divine! You can use Orange or Peppermint oil in place of the geranium oil, if you prefer.
NOTE To make beetroot puree, peel and chop 1 – 2 beetroot (depending on their size, you'll need ½ cup of puree). Place the cut beetroot in a pan and cover with water. Bring to a boil, then reduce heat and cook until beetroot is tender (about 10 – 15 minutes). Let beetroot cool and then put it in a food processor with a little of the cooking liquid and process on high until very smooth.
TIPS The smaller you cut the beetroot pieces the quicker they will cook for making the puree. You can also use pre-cooked beetroots, but not the flavoured ones.
To colour the frosting, you can use a little pureed beetroot or beetroot powder. Just add a little at a time of either until the frosting is a shade of pink you like.
Ingredients
Cupcake Ingredients:
1½ cups gluten-free (or regular flour)
2 tbsp cacao powder
1½ tsp baking powder
½ tsp sea salt (to taste)
1 cup coconut milk (or milk of choice)
1 tsp apple cider vinegar
½ cup cooked beetroot puree
¼ cup melted coconut oil or butter
1¼ cup organic raw sugar
1 tsp vanilla
1 drop geranium oil (to taste)
Pink Beetroot Frosting:
1 cup cream cheese or vegan cream cheese (room temp)
½ cup maple syrup or honey (room temperature, to taste)
1 – 2 tsp beetroot puree (depending on desired colour)
1 tsp vanilla (optional)
1 – 2 tbsp warm water or milk (if needed to thin a little)
1 drop geranium oil (to taste)
Instructions
Preheat oven to 180 degrees and prepare your muffin tin by lining it with cupcake holders (use a heart-shaped baking tin or cupcake liners if you would like heart-shaped cupcakes)
In a large mixing bowl sift in the flour, cacao powder, baking soda and salt and stir to combine and set aside until needed.
In a small bowl mix the milk and vinegar together and let sit a few minutes. It may curdle, it's OK.
In another medium-large bowl combine the beetroot puree or apple sauce and melted coconut oil and blend until well. You can use an electric mixer or do it by hand. Then add the sugar and combine well.
Add the milk and vinegar mixture, vanilla and geranium oil to the beetroot mixture and mix until well combined.
Add the flour mixture slowly into the wet ingredients and mix well until combined.
Spoon the batter into your lined muffin tin and fill them approx. ¾ full. Bake for approx. 15 – 20 minutes, or until a toothpick inserted in the middle of the cupcake comes out clean.
Remove the cupcakes from the tin and set on a wire rack to cool for approx. 20 – 25 minutes. Allow the cupcakes to cool completely before adding the frosting.
To make the frosting place all the frosting ingredients in a medium bowl and mix well by hand. You can also mix in a food processor or with an electric mixer. You may need to add a little water to thin, but do not make it too thin. Taste and add a little more honey and geranium oil, if desired. You can also add a little more beetroot puree to make the colour even pinker. It's up to you.
Once the cupcakes are cooled frost them and place them on a platter to serve. You can store them in the refrigerator for up to 5 days until you are ready to serve. Take them out of the refrigerator approx. 15 – 20 minutes before you are ready to serve to allow them to warm up a little.
© 2021 COPYRIGHT (C) 2018 – ALL RIGHTS RESERVED – YOUNG LIVING
The post gluten-free red velvet cupcakes with cream cheese frosting appeared first on Young Living Australia.