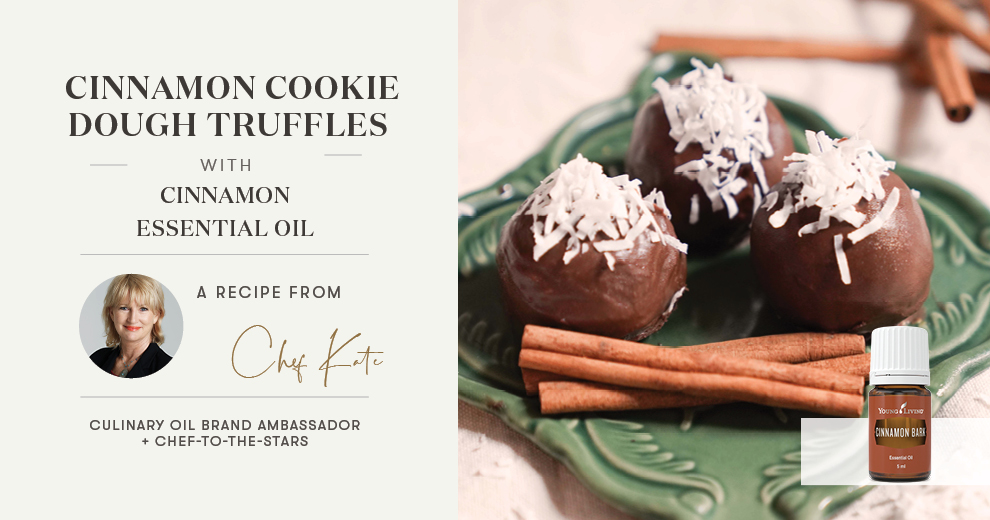 Looking for the perfect, cosy festive treat? You're going to love these Cinnamon Cookie Dough Truffles! The Cinnamon essential oil gives them a wonderful warming flavour that's great for the holiday season.
NOTE Cinnamon essential oil has a warm kick and is best to start with a little and add more as desired.

Ingredients
Ingredients:
1 tsp melted coconut oil or melted butter
1 tsp vanilla essence
1 drop cinnamon bark essential oil (to taste)
¼ cup maple syrup or honey (to taste)
¼ cup coconut milk or other milk (room temp)
½ tsp cinnamon powder (optional, to taste)
? tsp salt
½ cup oat flour (or finely ground oats)
½ cup almond meal (finely ground almonds)
Ingredients for Truffle Coating:
1 cup dark or white chocolate
2 tbsp melted coconut oil
1 drop Cinnamon Bark essential oil (to taste)
sea salt flakes or shredded coconut (optional for sprinkling on the truffles)
Instructions
1. Line a baking tray with non-stick baking paper and set aside.
2. In a medium-large bowl mix together the coconut oil, vanilla essence, Cinnamon Bark essential oil and maple syrup. Then mix in the coconut milk, cinnamon powder and salt.
3. Then stir in the oat flour and almond flour and mix until just combined. Check to see how the mixture holds together and if it is a little crumbly add a little more milk but not too much or it will be runny. If you do add too much milk you can add a little more oat flour to dry it out again. You want the dough to hold together.
4. Then roll the cookie dough mixture into small bite-size balls and place on the baking tray. Once all the balls are rolled place the tray in the fridge to set for 15 minutes before coating with the chocolate.
5. When you are ready to coat the truffles melt the chocolate and coconut oil and stir together until just combined and completely melted. I like to use a double boiler to melt the chocolate.
6. Once the chocolate is melted coat one truffle at a time by gently dipping it in the chocolate mixture using two forks. Coat the truffle well and then allow any extra chocolate to drip off by rocking the truffle between the forks and place it back onto the non-stick baking paper.
7. If using shredded coconut or flaky sea salt sprinkle, a little on the top of each truffle right after dipping so the coconut or salt sticks to the wet chocolate. Repeat until all the truffles are coated. Then place them back in the fridge to set the chocolate for 15 minutes before enjoying. Store in an airtight container in the fridge for up to 2 weeks.
© 2021 COPYRIGHT (C) 2018 – ALL RIGHTS RESERVED – YOUNG LIVING
The post Cinnamon Cookie Dough Truffles appeared first on Young Living Australia.