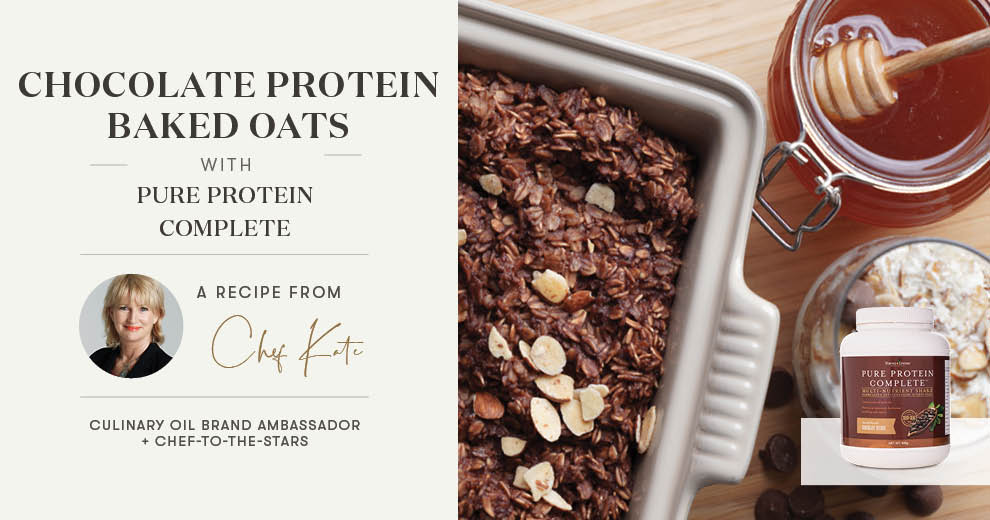 This is a quick, simple and really yummy dish that feels like you're having a treat for breakfast! Make the recipe your own by adding some of the Additional Options or come up with a few of your own favourites. Adding the Protein Powder gives this breakfast a healthy nutritional boost and tastes great too. You can also use Young Living's other flavour, Vanilla Spice Pure Protein Complete

in place of the chocolate flavour or combine the two…it's up to you.
NOTE You can prep all the dry ingredients and wet ingredients the evening before just keep them separate until you are ready to make the dish and bake it. This will save you precious time in the morning or you can make the recipe a day or two ahead and re-heat portions before serving. It's even yummy served chilled with yoghurt, berries and a few nuts and seeds. If you feel like being a bit fancy you could serve it in layers in a lovely clear glass or bowl as a breakfast parfait.
To make a parfait layer a little baked oatmeal, then sweetened yoghurt then berries and repeat until the glass or bowl are as full as you desire. Then drizzle with a little maple syrup or honey (optional, to taste) and top with a few seeds, nuts and shredded coconut and you have a great dish for a special breakfast or brunch.

Ingredients
Dry Ingredients:
2 cups rolled oats
¼ cup cocoa powder
¼ cup Chocolate Deluxe Pure Protein Complete
1 tsp non- aluminium baking powder
½ tsp sea salt
Wet Ingredients:
2 cups almond milk (or milk of choice)
¼ cup maple syrup, honey or sweetener of choice (to taste)
1 ripe banana mashed or apple sauce (approx. ½ cup)
¼ cup almond butter/spread (optional)
1 tsp vanilla essence
1 tbsp coconut oil or butter (melted)
1 – 2 drops Cinnamon Bark Essential Oil (to taste)
Additional Options :
½ cup chocolate chips or chopped chocolate (reserve half to sprinkle on top)
¼ cup white chocolate chips or chopped white chocolate
¼ cup raisins or sultanas
½ cup chopped nuts and/or seeds
¼ cup shredded coconut
¼ cup frozen berries
Instructions
1. Preheat the oven to 180C and line a (approx. 20ml x 20ml) baking tin/dish with baking paper for easy clean up. You can use any shape baking tin/dish you like and ramekins also are great for individual portions.
2. In a large bowl, mix together the dry ingredients (if you are planning to prep the evening before mix the dry ingredients together cover and set aside until the morning).
3. In a medium bowl mix together the wet ingredients (if you are going to mix the batter in the morning do not add the melted coconut ahead of time as it will harden in the fridge overnight).
4. When ready to bake the oatmeal add the wet ingredients to the dry ingredients (and the melted coconut) and mix by hand to combine. Then add any of the Additional Ingredients and gently mix to combine.
5. Pour or spoon the oatmeal mixture into the prepared baking dish and top with ¼ cup reserved chocolate chip and some nuts, if desired.
6. Bake for 25 – 30 minutes, or until the oatmeal has set. Remove from the oven and cool for a few minutes before serving.
7. You can keep any leftover oatmeal in an airtight container in the fridge for up to 4 days. To reheat the baked oatmeal, heat your oven to 180C and place a portion or portions of baked oatmeal in an oven-proof dish, cover with baking paper, then foil (or a lid) and bake for approx. 15 – 20 minutes until heated through. You can also reheat the whole baked oatmeal using the same method as for portions just bake a little longer for approx. 20 – 25 minutes until heated through. I like to add a few more chocolate chips when reheating.
© 2021 COPYRIGHT (C) 2018 – ALL RIGHTS RESERVED – YOUNG LIVING
The post Chocolate Protein Baked Oats appeared first on Young Living Australia.