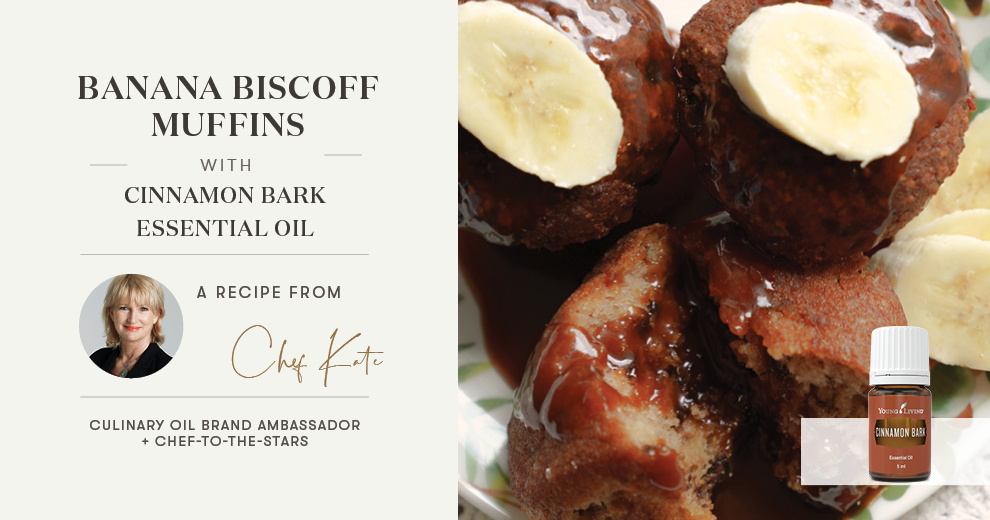 These Banana Biscoff Muffins are a delicious treat that your family and friends are sure to enjoy. Cinnamon Bark Essential Oil gives a warming spicy twist and goes great with the banana. The filling is so luscious, you're going to love it!
TIP These muffins are full of healthy ingredients and you can make them vegan and/or gluten-free depending on the choice you make in the recipe. The banana replaces eggs and for the sauce you can use coconut oil instead of butter.
NOTE The filling recipe makes extra biscoff caramel (approx. 1¼ cups) and you'll need approx. ½ cup for filling the muffins. The extra sauce is wonderful over ice cream, non-dairy ice cream, slices or for dipping fruit in. The sauce will keep refrigerated for up to 2 weeks. To reheat before serving just place the container of caramel filling in a bowl of hot water to soften.
To make the delicious biscoff centre cut the middle out of the cooled baked muffins and then spoon approx. 1 tsp into each centre. If you are making 12 mini muffins, you'll cut smaller holes and use less of the filling.

Ingredients
Muffin Ingredients:
1 large ripe banana
¼ cup maple syrup
½ tbsp melted coconut oil
1 drop Cinnamon Bark Essential Oil (to taste)
1 tsp vanilla essence
½ cup milk of choice
1 cup self-rising gluten-free (or regular self-rising flour)
1/8 tsp salt (to taste)
Filling Ingredients:
½ cup butter (or coconut oil)
1 cup coconut sugar
¼ cup cream (or coconut cream)
1 tsp vanilla essence
1 drop Cinnamon Bark Essential Oil (to taste)
Pinch of salt
Fresh banana slices (optional for serving)
Instructions
1. Preheat oven to 180C and line your muffin tin with muffin papers and set aside. You can make 12 mini muffins, if you prefer.
2. In a large bowl mash the banana until smooth and then add maple syrup, coconut oil, Cinnamon Bark Essential Oil and vanilla and mix well. Then mix in the milk.
3. Stir in the flour and salt and mix together until well combined. Then spoon the mixture evenly between the muffin papers.
4. Bake for 10 – 12 minutes then remove from the oven and place on a wire rack to cool. If you are making mini muffins, they will bake a little quicker so check them at 8 minutes to see if they are cooked through.
5. While the muffing bake, make the biscoff caramel filling. I suggest prepping all the filling ingredients so they are ready to use before you start.
6. Place butter in a medium-large saucepan over medium-high heat and when it starts to melt whisk in the coconut sugar.
7. Continue whisking until the coconut sugar has melted and is starting to bubble approx. 2 minutes. Be careful not to burn. Then add the cream or coconut cream, vanilla and salt and continue whisking until combined and the sauce thickens a little. This should take 3 – 4 minutes. Set the sauce aside to cool until it's time to fill the muffins.
8. Once the muffins have cooled, use a knife to carefully cut out the centre of each muffin. Spoon approx. 1 tablespoon of filling into the hole. Spread a little of the biscoff caramel sauce over each muffin. This step is optional but makes the muffing even more luscious. You can top with fresh sliced bananas, if you like or serve as they are.
© 2021 COPYRIGHT (C) 2018 – ALL RIGHTS RESERVED – YOUNG LIVING
The post Banana Biscoff Muffins appeared first on Young Living Australia.