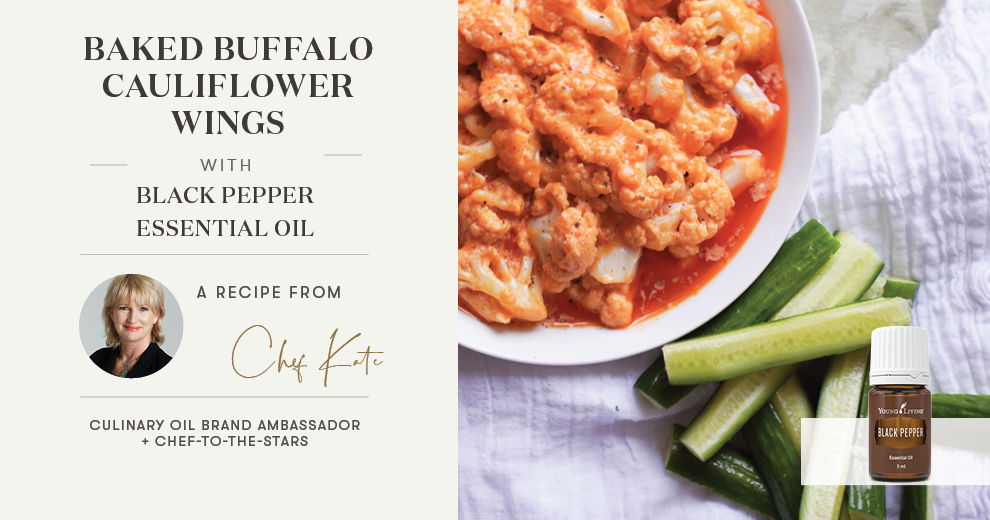 These Baked Buffalo Cauliflower Wings are perfect for whenever you're craving comfort food while still using nourishing ingredients.
This is a great vegetarian recipe using cauliflower florets in place of chicken. You can also make it vegan friendly by using a vegan butter spread instead of the butter in the sauce. Serve as a wonderful snack or veggie side dish.
TIP For this recipe you can use a store-bought hot sauce and choose one as hot or mild as you like.
NOTE The cauliflower is baked for 20 minutes before you add the hot sauce and butter mixture and then baked for 10 – 15 minutes longer until the cauliflower is golden and crispy.

Ingredients
Baked Buffalo Cauliflower Wings Ingredients:
1 head of cauliflower (approx. 4 cups of bit-size pieces)
½ cup milk of choice
¾ cup water
1 cup gluten-free flour or regular flour
1 clove garlic, minced (optional)
1 tsp of paprika
2 drops black pepper oil (to taste)
1 cup hot sauce (you can use a mild or hot)
2 tbsp butter or vegan butter spread
Lemony Dipping Sauce Ingredients:
1 cup mayonnaise or vegan mayo
2 – 3 tbsp water (to thin)
2 tbsp fresh lemon juice
1 – 2 tbsp maple syrup or honey (to taste)
½ tsp sea salt and freshly ground pepper (to taste)
4 drops lemon oil
1 drop black pepper oil (to taste)
Instructions
1. Line a large baking pan with baking paper and preheat oven to 200C. Clean the cauliflower well and cut into bite-sized pieces.
2. In a medium bowl mix together the milk, water, flour and spices. The batter should be thick and coat the cauliflower without dripping. Add a little more flour, if needed and mix again until the right consistence is achieved.
3. Dip the cauliflower in the batter piece by piece or in batches and shake off excess batter before placing cauliflower in the baking pan. Arrange the cauliflower in a single layer on the baking pan to allow for all the pieces to brown.
4. Bake for 20 minutes until golden brown, turning over the pieces after 10 minutes of baking to get all sides cooked.
5. While the cauliflower is baking make the buffalo wing sauce. Place the butter (or vegan butter) in a small pan on low heat and add the hot sauce. Remove the pan from the heat just as the butter starts to melt, stir the sauce together and set aside.
6. Make the Lemony Dipping Sauce by mixing all the dipping sauce ingredients together in bowl and refrigerate until you are ready to serve the wings. If the sauce is too thick add a little more water. Taste and add a little more lemon oil and/or maple syrup, if desired. You can make the sauce a day ahead.
7. Once the cauliflower is done with its first 20 minutes bake remove from the oven. Place the baked florets into a large mixing bowl and pour over the hot sauce butter mixture and mix to coat evenly.
8. Return cauliflower to the baking sheet and bake in the oven for another 10 – 15 minutes or until crispy. Serve with dipping sauce or your favorite dipping sauce.
© 2021 COPYRIGHT (C) 2018 – ALL RIGHTS RESERVED – YOUNG LIVING
The post Baked Buffalo Cauliflower Wings appeared first on Young Living Australia.